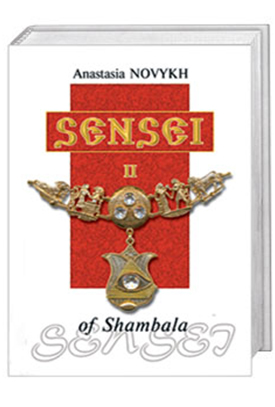 ISBN 978-966-96863-0-5
Year of publishing 2007
Sensei of Shambala. Book II
No matter what power a person has on earth, he will never get satisfaction from it, as the highest power is power over oneself.
"A Human's footprint takes up little space in an endless Desert. But, despite this, it can tread where no one has passed before. By stepping where no one has passed, Man can go far and gain more. His mind can cognise little, but Man, trusting in the Unknown, can reach Him Who created him."

"You can hide neither from the Truth nor from Wisdom. There is nothing secret on Earth which will not one day become known. Human life and death is a flow of a single process. To understand the past means to learn to overcome the dangers of the present. One can swim out of it only by becoming a Human!"
Interesting continuation of the book "Sensei" which describes how the young people from a martial arts group stay with Sensei at the seaside. Simple everyday fuss vanishes when the Personality of Sensei, which is unique in knowledge and tireless in humour, is around. A typical day of rest becomes eventful with information and happenings: adventures of the guys, captivating worldview of Sensei, and his unusual demonstration of phenomenal abilities. Two unique highlights of this book are the deep wisdom in the parable of the Bodhisattva, which, thanks to its implied meaning, reveals the eternal quest of the human soul and the story about a Saint of Kievan Rus - Agapit of Pechersk, the unmercenary healer, whose miracle-working relics are to this day kept in Kyiv-Pechersk Lavra.
There is nothing secret on Earth which will not one day become known
To understand the past means to learn to overcome the dangers of the present. One can swim out of it only by becoming a Human!
...a chance meeting, a word, and even a wordless action may give rise to such a chain of events which will invisibly lead to some global changes, whether in individuals or in society as a whole
Life is a moment. And each person wants to be happy in this moment. He wants to but is not able to. Why? After all, happiness is so close. One needs only turn to the side of Good and simply become a Human
If you are lenient with evil, you will not notice how you will become indifferent to good. However, while punishing evil, one must be able to stop in time. Only in this way will you be able to avoid the danger that lies within you. The winning one is not proud, does not force, he does not gloat. He defeats... and, in the first place, himself. So while punishing evil, one must remember about good
The winning one is not proud, does not force, he does not gloat. He defeats... and, in the first place, himself